Barsotti's Body & Fender Service is part of the Land Rover Authorized Aluminum Repair Network 
Overview
Get in. Get out. Get back on the road-or better yet, off-road.
The last thing you want to spend time doing after you've been in an accident is calling repair shops. We've done the legwork for you.
Only Jaguar Land Rover Authorized Aluminum Repair Network shops have access to exclusive training and genuine Land Rover aluminum repair parts, so you can be sure you're getting the parts and service your Land Rover vehicle needs to stay in optimal condition.
And most importantly, Barsotti's is your Land Rover authorized repair center and we are easy to find.
Advantages Of Aluminum
Land Rover engineers adopted the proven construction techniques of the aerospace industry to assemble the aluminum monocoque bodies of the 2013 Range Rover and 2014 Range Rover Sport. When joining aluminum pressings, rivet bonding uses self-piercing rivets and epoxy adhesives for strength, robustness and durability.
The body of these vehicles are significantly stiffer and lighter than their steel-bodied predecessor. These attributes make the vehicles both more agile and safer. Being lighter than the equivalent steel bodies, aluminum structures carry significantly less kinetic energy into a collision, reducing the amount of energy that has to be absorbed by the bodies in an accident.
Front and rear crush zones in the body structure progressively absorb crash energy while protecting the integrity of the cabin, and the "tube-in-tube" propshaft features built-in crush properties to absorb collision energy.
Benefits
With the Jaguar Land Rover Authorized Aluminum Repair Network, you know your Land Rover is receiving quality collision repair and will be back out on the road in no time.
To help ensure the most efficient repair process, each Land Rover Retailer is paired with an authorized local aluminum repair shop.
Genuine Land Rover Aluminum Repair Parts
The only source for genuine Land Rover aluminum repair parts, which carry a Land Rover parts limited warranty.*
Certified Technicians
Staffed with certified technicians and equipped with Land Rover tested and approved tools and equipment.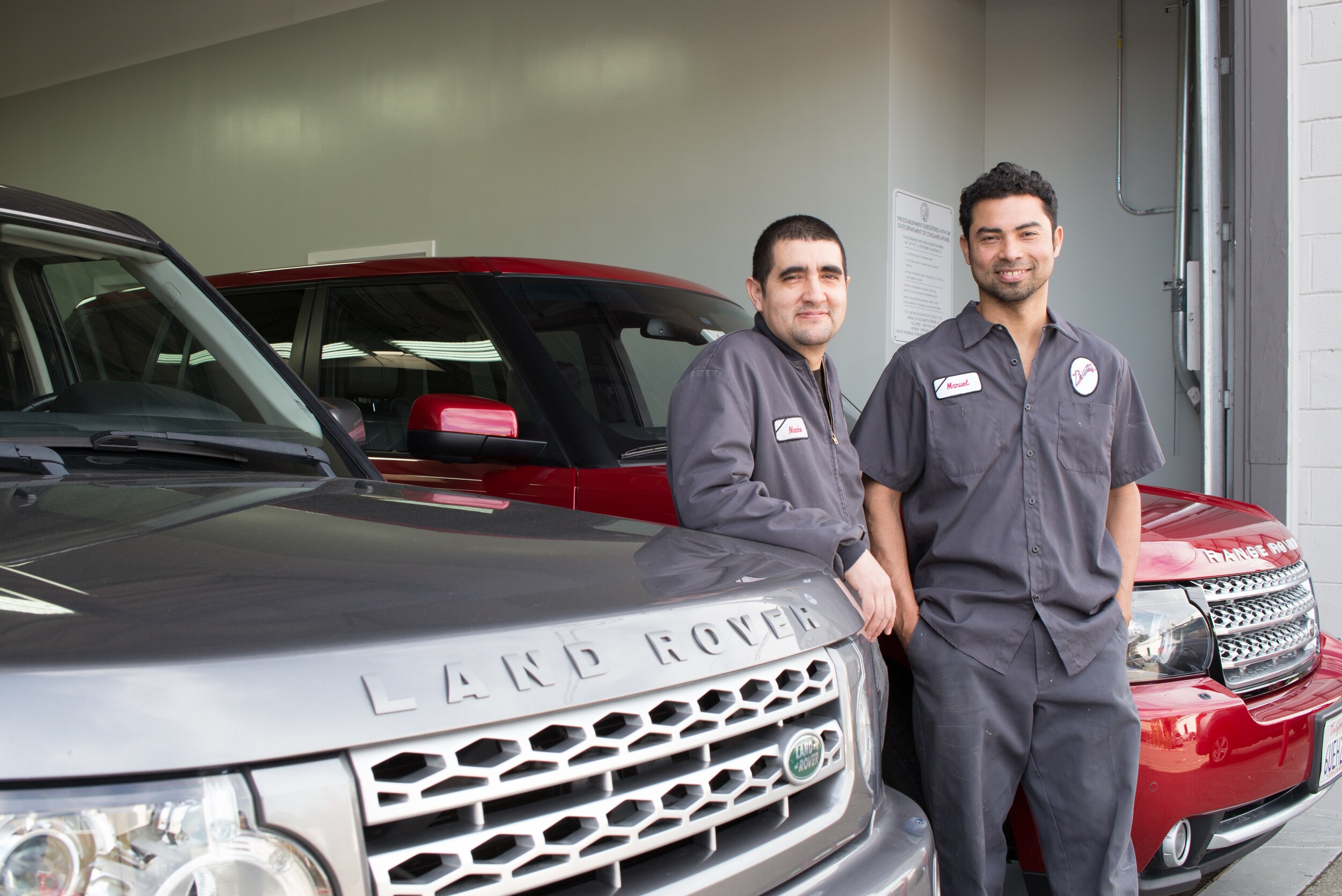 Frequently Asked Questions
What should I do if my Land Rover vehicle requires repair following an accident?
Find a local Authorized Aluminum Repair Network shop using the shop locator. Or simply call Barsotti's Body & Fender Service (415) 454-5157.
What if my Land Rover vehicle is repaired outside of the Authorized Aluminum Repair Network?
Repairs performed by unauthorized repair shops may compromise the integrity of your Land Rover vehicle, reducing its value.
Are there any repairs that independent, non-certified repair shops can make?
Land Rover does not recommend or encourage collision repairs outside the authorized and trained Authorized Aluminum Repair Network. This includes windshield replacement and any repairs to dings and dents.